The Helium Token (HNT) was trending Thursday following the new company updates.
Helium participates in CoinDesk's Consensus 2022 festival to "show and celebrate digital currencies" in Austin, Texas. Guest speakers at the event include Abhijit Ganguly, a Goodyear venture capitalist. He will talk about Web3 and mobility.
Helium also launched its Helium Wallet app on Thursday. It is now available on the Apple and Android Play Stores. It will help users manage tokens and identity on the Helium network.
In February of this year, the company announced plans to split the Helium app into two functional components: hotspot management and token management.
The new Helium Wallet app will manage user identity and tokens.
Read also: Is LTO Network (LTO) encryption on the rise after Binance's US listing?
The cryptocurrency Helium (HNT) rose 8.90% to $ 11.60 at 9:58 AM ET on Thursday.
Helium will celebrate its third anniversary in July this year.
Read also: What is Bluzelle (BLZ) cryptocurrency and why has it increased by 40%?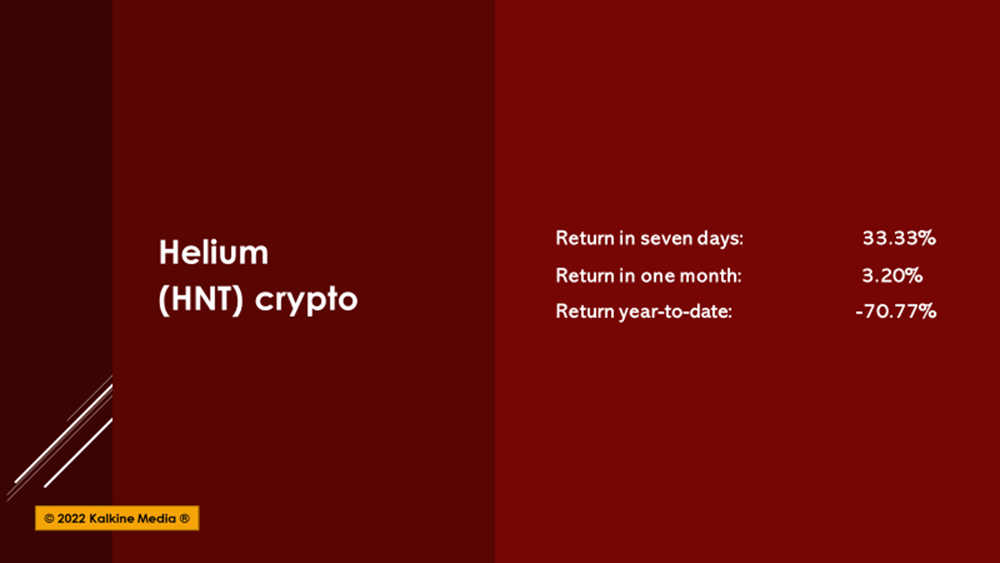 Data source: coinmarketcap.com
Read also: Why does WOO Network (WOO) encryption generate interest?
What is Helium (HNT) crypto?
It is a blockchain-based decentralized network for Internet of Things (IoT) devices. It allows low-power devices to communicate and send data across network nodes.
The nodes create so-called Hotspots, a wireless gateway and a blockchain mining device. The network uses a new consensus algorithm, proof-of-coverage, which allows nodes to reach consensus when connection quality changes. Users are charged a transaction fee via the Data Credits token, which is not exchangeable.
Read also: Why did the Saitama (SAITAMA) cryptocurrency fall? Is it worth exploring?
HNT Token:
The HNT token can be traded on Binance, Bitget, FTX and MEXC. Its current outstanding supply is 119.37 million and the total supply is 223 million. Its market capitalization is $ 1.38 billion. The token's 24-hour volume jumped 236.95% to $ 122.59 million.
Read also: Is Chainlink (LINK) cryptocurrency increasing due to its updated roadmap?
Bottom line:
Helium aims to improve wireless IoT communication through decentralization. The project is ranked 43rd on coinmarketcap based on market capitalization. It is defined as a network powered by people. Currently, the network has 848,552 hotspots.
Risk disclosure: Cryptocurrency trading carries high risks, including the risk of losing some or all of your investment and may not be suitable for all investors. Cryptocurrency prices are extremely volatile and can be affected by external factors such as financial, regulatory or political events. The laws that apply to crypto products (and how a particular crypto product is regulated) may change. Before deciding to trade in financial instruments or cryptocurrencies, you should be fully informed of the risks and costs associated with trading on the financial markets, carefully consider your investment goals, experience level and risk appetite, and seek professional advice where necessary. Kalkine Media cannot and does not represent or warrant that the information / data available here is accurate, reliable, current, complete or appropriate for your needs. Kalkine Media assumes no responsibility for any loss or damage resulting from your trading or reliance on information shared on this website.